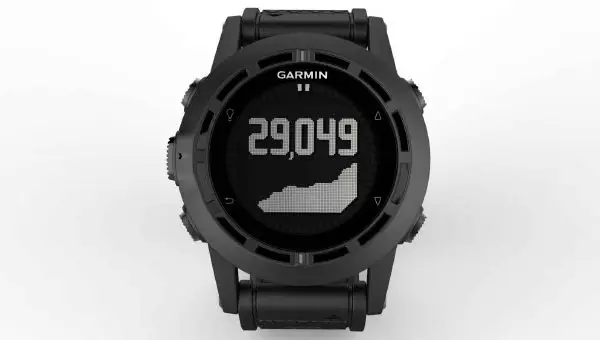 Remember the old days, back when watches just told time and that was that? Imagine that, a device that takes up valuable wrist space that only does one thing. Nowadays, we won't even put something in our backpack that doesn't handle at least two dozen important daily tasks. The world has changed. Technology has glommed it's ooze all over everything and everyone(horrible image, sorry.) In any event, smart watches are the thing to beat right now. They do everything your smartphone does, only don't take up space in your already filled to capacity pockets. Garmin, a popular watch manufacturer going way back, has really stepped up their game as of late. Here is another cool entry into their growing tech-heavy catalog.
They are calling it the Tactix watch, and it may just turn you into a super soldier along the lines of Captain America or at least your Uncle Ernie who spent a few hours in a reserves sign up line once before chickening out. Of course, being as how this is made by Garmin, this watch is heavy on the GPS functionality. It also comes with an altimeter, a barometer and a 3-axis compass. American units come preloaded with tide data (for swimming enthusiasts) and all watches include Jumpmaster software(for flying enthusiasts.) It's also water proof up to fifty meters and comes with a nifty night vision back light. Oh yeah, one more thing. The Tactix can also track GPS signatures for up to fifty full hours on one single charge. That's a whole lot of stalking. Yay!
The watch is expected in stores later this year at a suggested retail price of $450. That may sound like a lot of money for a watch but can there be a price put on becoming the world's ultimate super soldier? We think not.