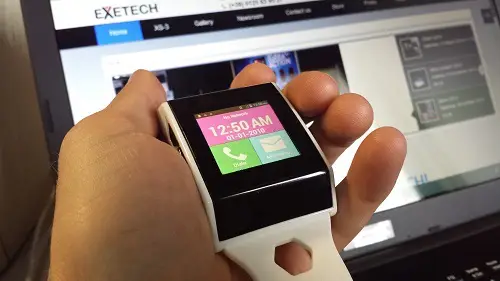 Smartwatches rule. They, in effect, do everything your smartphone can do but right from the convenience of your wrist. The only downside? A great many of them act as tethers to your smartphone, meaning they simply use Bluetooth to relay information from your phone. This means that they need a smartphone in order to work. Even worse? They often need a smartphone to be very close by, within 100 feet at the very furthest, in order to work. This is cool and all but what about those of us who don't want to carry two gadgets around with us everywhere we go? Are there self-contained smartwatches that don't need any old smartphone in order to work?
Introducing Exetech's futuristic XS-4. Guess what? This smartwatch don't need no smartphone in order to do its very best to keep your wrist up to date with the latest happenings! It connects to the world not via Bluetooth, but rather via 2G, 3G or even 4G connections. You'll need to pay for service but, on the plus side, it'll work no matter where you are and no matter how far you are from your phone or a wi-fi device. On the features side, it has a slick AMOLED screen, Android operating system and, best of all, a fully functional touchscreen. You'll say goodbye to your phone forever!
Of course, like most pieces of cool tech, it's not out yet. You'll have to plunk down some money to their Kickstarter in order to secure your own. The good news? They've already blown past their asking amount. Even better news? A preorder will cost you only around $230.