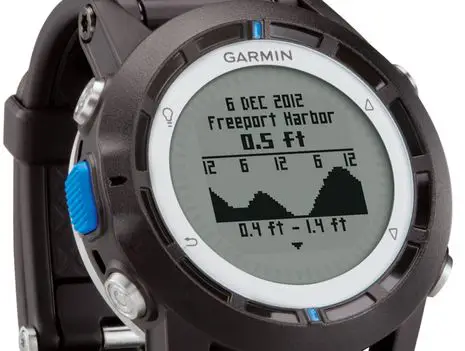 Here at CrunchWear we're big fans of Garmin. We're covered a large number of their sports watches, from their runners watches to their hiking watches, to even their golfers watches. But there's another new watch from Garmin that we haven't covered yet. It's called the Garmin Quatix, and it's what Garmin is calling a "marine watch". Basically, Garmin is hyping it up as their answer to a sports watch for water sports, mostly from a boat, be it sailing, rowing, or any other boat based sport.
Garmin is claiming that the Quatix has features that have "never been combined into one watch before". And the watch certainly does have some great features. Garmin is known for being a GPS company, and because of that most of their sports watches have some form of GPS capabilities. The Quatix watch is no exception to that. Using the Quatix, wearers can set up virtual starting lines and finish lines using marked GPS waypoint, such as a buoy or another boat. The watch can then calculate the start time and end time, as well as the speed you are traveling, enabling it to tell you exactly what you could fix in order to have a better time. Furthermore, in a race, the watch can tell you whether you are on the right track or not, and if not it can tell you what to do in order to get on the right track.
The GPS on this watch is a high sensitivity GPS and is calculated in classic Garmin style – extremely accurately. Not only that, but it allows you to control a Garmin Autopilot straight from your wrist, which should enable you to be able to move around the boat freely and able to control things from your watch.
The Garmin Quatix is compatible with a number of other external pieces of gear which we won't go into here. One thing is for sure, with the compatibility that it has, it's sure to be versatile.
Furthermore, the Quatix has a built in barometer and even can display tide tables. These features should help you be able to monitor the weather and water conditions that you're sailing in in order to streamline your performance. You can even plan your journey at home using an iOS app, and with your iPhone connected to the watch via Bluetooth. And, of course, the watch is waterproof up to 50m, which should be plenty for any boat based sport.
Garmin seems to have done it again. Creating more and more watches for a wide variety of different sports, Garmin is taking over the sports watch world, one sport at a time. It seems that there really isn't too many options for sailors to use, but the Garmin Quatix certainly seems to be a great option if you're considering getting a watch to improve your times and performance. You can take a look at it for yourself at the Garmin website, and if you decide to purchase it, it will set you back a cool $449.99. That may not be cheap, but for some people it certainly might be worth it!