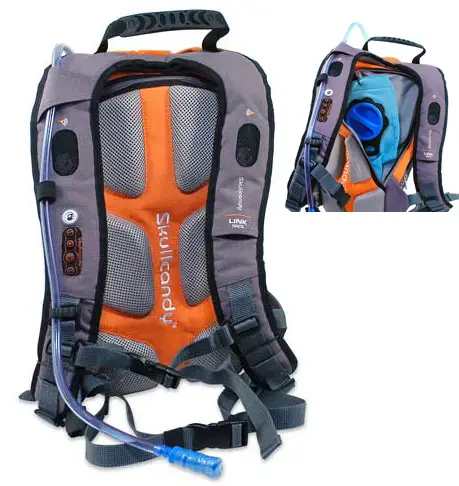 Skullcandy's H2O LINK Hydration Pack with integrated Speakers has been around for some time but it seems justified to beam it up as another option for iPod yielding hikers, bikers and other outdoor fans.
The Skullcandy H20 LINK is a super cool backpack that will keep you hydrated and entertained on those long trips. The built-in hydration pack will hold 72 ounces in a water-tight container, the equivalent of three large water bottles.  The footprint of the hydration pack takes up minimal space thanks to its space saving design.
A straw runs down the shoulder strap and makes it convenient to drink whenever you want without stopping your activities.
The LINK system from Skullcandy integrated into the shoulder strap gives you full control over your iPod and cell-phone. The phone answer button on the soft-touch panel works with every mobile phone. You'll never again miss a call while digging through your backpack to find your phone.
The Skullcandy H2O LINK pack has a battery-powered amplifier that fires out sound from 60mm speakers embedded in the straps. The speakers are weather-impervious, carbon-fiber woven, custom built and designed to be used in rain, snow or sunny weather.
The speaker function can be used with any portable audio player, not only the iPod by connecting the audio player via the 3.5mm headphone port.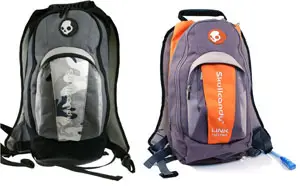 This impressive feature list together with many expandable pockets and the durable nylon material of the H2O LINK makes it a very good choice for mountain bikers, hikers and anyone who enjoys the great outdoors.
The H2O LINK Hydration Pack with Speakers is available from Amazon in Orange/Gray and o Black with Camo accents and costs $149.95.