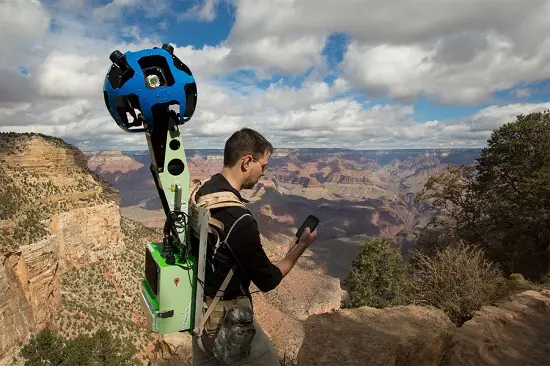 Remember the Google Street View Trekker? This massively tech-loaded backpack lets wearers take accurate imagery to be used in Google's Maps platform(that's the one that doesn't suck.) The Trekker is perfect for areas of this great, green Earth that satellites can't snap accurate photos of. You know, like the back room of a Taco Bell. I kid. I kid. No, we mean like Siberia or, um, America's Grand Canyon.
Speaking of the Grand Canyon, that is where Google recently sent their Street View Trekker. It's mission? Get accurate, detailed survey photos of everything and anything, for use in Google Maps. Take that Apple! The backpack has a 360 degrees camera system so it can truly get details that nothing else can get. The awkward contraption is controlled by an Android app, obviously. To measure precise location data, the Trekker hauls accelerometers, gyros, magnetometers and GPS. Between the pack, the sensors and the camera systems, the Trekker weighs in at 40 pounds. And, oh yeah, it is also worn by an actual human being who has to walk around with this monstrosity on their back.
The big G has not announced when this new data will be folded into their Maps service, but one can expect it shouldn't take too long. The Internet moves fast, after all. Don't tell that to Apple, though. Hey, third time's a charm. Check below for a video of the Trekker in action. Live long and prosper.