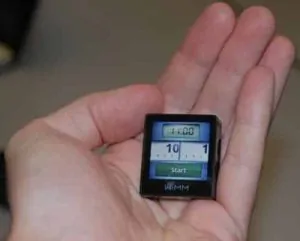 Wristwatches come and go, but how many are basically computers that you wear? That's the case with the WIMM Wearable Platform series of Android-enabled devices. These handy dandy gadgets do just about anything you can think of.
WIMM Labs have created the product, which is comprised of a bunch of tech all stars. The Wearable Platform is made special via a series of included "Micro apps." These teeny apps may be small in size but they are big on productivity. These include but are not limited to weather, email, and time(duh.) The display is a 1″ x 1″ (160 x 160) touchscreen, and the internal board includes wi-fi, bluetooth 2.1 EDR, GPS, an accelerometer, magnetometer, vibrator, speaker, and up to 32GB of microSD memory.
The device will be available later in the year and should retail for around $200. Not bad.