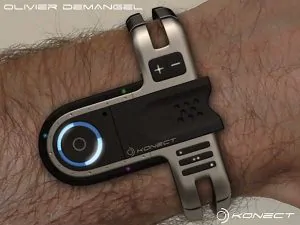 Watch concepts have a tendency to reach out and grab us. This one is no different. Artist Oliver Demangel has concocted his Konect Usb watch concept that has begun turning heads in the wearable tech world. It packs in a ton of cool ideas and tells time in a unique fashion, unfortunately that fashion makes telling time rather difficult. Oh well, such is life.
For one, there's a Bluetooth radio that acts as a receiver. So, as long as you have a BT headset strapped in, you can use your watch to communicate. Like Star Trek! There's also some music playback functionality. This all comes via the use of a removable USB stick. Again, though, all of this futuristic swagger comes with a price. The watch is difficult to read. It has something to do with flashing lights and semicircles. Or something.
It is only a concept for now and as such is not available for purchase. However, it has been getting some attention so it could advance to the production stages soon.