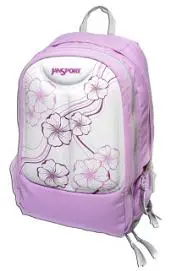 JanSport is one of the most active players in the Wearable Electronic business and we have covered their Apparel range as well as their iPod and Audio Backpack range.
The latest addition to the Wearable Electronic range from JanSport is a backpack with integrated speaker. Adding speaker seems a new trend in the Bag and Backpack segments as we see more and more companies offering such products.
And we like this, having more choice for the Wearable Electronic enthusiasts.
The Recourse backpack features an audio port and flat panel speaker integrated in the front of the backpack. You can listen to your tunes without your earbuds, plug in any MP3 player and rock over the world. The volume control is integrated on the strap while your audio player goes into a dedicated pocket with connector inside the Recourse.
There is no mention of batteries on JanSport's product site but we think there should be some electronics that operate the speaker (amplifier) and this electronics need some power.
The Recourse looks beautiful because the speaker is invisible from the outside. We assume it is made with the same NXT speaker technology as the Marks & Spencer computer bag.
This is the ultimate party pack! It's the perfect companion for summer picnics. It even comes with a cool compartment for a bottle to keep your favorite drink chilled and a bottle opener on the zipper pull. We bet you haven't seen a bag like this before!
The Recourse is ready for you for example on eBag at around US$ 197.- and comes in three colors – Carolina Blue, Purple Echinacea (shown in the photo) and Black.