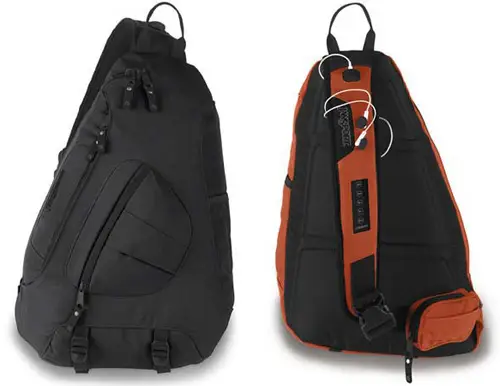 Still looking for a iPod ready bag? Maybe Jansport's KingPin has just the right size for you.
The integrated Livewire iPod remote control from Jansport lets you control the iPod from the strap without the need to expose your precious little iPod to the harsh elements – keep it save inside the KingPin.
Next to the Livewire iPod control, the King Pin features a top carry handle, front gear pocket and a removable cell phone pocket.
The KingPin is a sling bag with keypad integrated into the shoulder strap. The standard five-button functions: volume, forward, reverse, pause, play, power on and off work with all newer iPod with dock connector.
The universal headphone port is on shoulder strap as well. A special protective V-loft pocket holds your iPod inside the pack, safe and sound. The cord manager in the strap creates easy, convenient organization of the headphone wires.
The KingPin is not a new model but still sells on Luaggageonline for 99.95
Its a nice option for anyone looking for a smaller bag and who does not want to miss the iPod control on a should strap (like me).