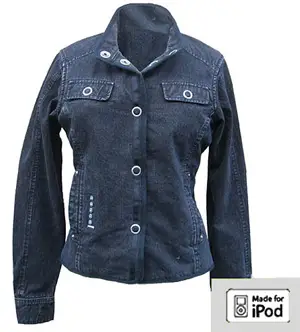 Jansport has a really large selection of iPod ready Jackets that have a stylish cut and look good.  If you are out and about for a jacket that makes the navigation of your iPod more convenient than 'normal' jackets that do nothing for your iPod except holding it, you might consider having a closer look at Jansport's iPod ready clothing.
We have posted last September extensively about Jansport's autumn/winter outdoor jacket collection.
The one item we missed out in this overview is the Women's Ringed Denim Jacket, ready made for the iPod based on Jansport's own LifeWire+™ iPod remote control solution.
The soft touch remote control buttons is located next to the right hand pocket, a very welcome deviation to the otherwise mainly in the sleeve integrated remote control buttons.

The Ringed Denim Jacket keeps the iPod safe in the side pocket with zip closure and it organizes your headphone cord keeping it out of way and convenient to use.
The outside shell Fabric is 100% cotton denim and the inner lining fabric 100% nylon. The soft-fabric keypad offers the usual five-button command of volume up/down, forward, reverse, pause, and play. It works with all 3G and newer iPod.
available by Dom's Outdoor Outfitters for $ 149.99, the Ringed Denim Jacket is a great looking street wear jacket with a soft touch of technology.