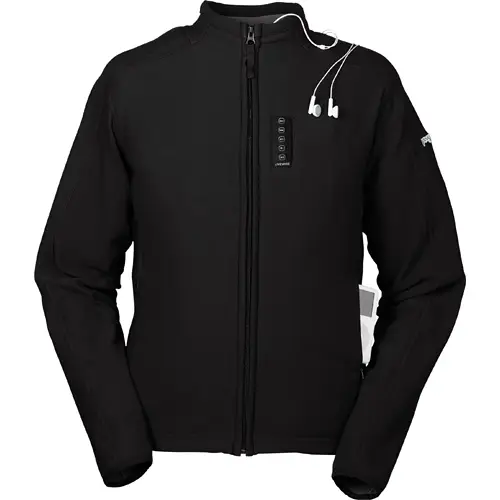 Comes September, comes the cooler time as well, at least in large parts of the most populated places on earth. With lower temperatures comes the need to have a bit more or thicker layers of clothing.
The 'official' start of the new Fall/Winter clothing sale has not kicked in yet, most retailers are in launch preparation for later this month or early October.
To bridge the gap and stay cozy warm in the evening and early morning hours between now and the launch of the new clothing line, I have been looking around, mainly on our Blog to see if there is something helping me to stay warm with a cute, good looking Wearable Electronic Jacket.
My eyes stopped at the Jansport iPod Power Softshell Jacket. This jacket is just right for the time between 'not that warm anymore' and 'not that cold yet' = September.
The iPod Power Softshell Jacket is designed in a layering fit with a water-resistant smooth face and soft, double-faced fleece interior. Jansports LiveWireâ"¢ technology offers full connectivity with 4th-generation and or newer iPod, featuring an integrated 5-button keypad in the label area that enables controlling the iPod without removing it from the pocket.
A very nice feature of the iPod Power Softshell Jacket is the drop in price compared to our last review: from $ 140.- down to a very cool/hot $ 99.97 as seen on CitySports online store. There is also a model for the boys, same style for just $ 89.97! This is not fair! Where are the equal opportunities?
Available in black and all sizes, so hurry to get yours if you like it, CitySports might take it off as soon as the new collection arrives.