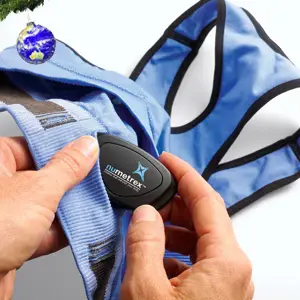 Just in time for Christmas, Textronics Inc. launched their new transmitter pod for use with the stretchy fabric electrode sensors that are knit into the company's NuMetrex® brand of heart rate monitoring fitness apparel.The new transmitter snaps into a tiny pocket in NuMetrex sports bras and shirts, where it receives the heart rate signal from textile sensors located across the chest band area.
The best part: the NuMetrex system is compatible with most analog heart rate monitor watches including Polar, Nike, Reebok, Oregon Scientific, New Balance, Highgear and Accumen models, as well as gym-quality treadmills and elliptical machines.
Stacey Burr, CEO of Textronics explains: "By replacing the conventional hard plastic electrodes with soft, flexible textile sensors that are knit directly into the fabric of our clothing, we are able to offer the most comfortable heart rate monitors on the market and with the development of our own transmitter, we can provide improved accuracy and compatibility with many different brands of watches."
The NuMetrex transmitter is built using technology that is designed specifically to meet performance needs created in a textile environment.
The flexibility to select a sport watch freely is a great idea that gives the option to mix and match his/her lifestyle.
To sweeten up the Christmas a bit, NuMetrex has special Christmas packages containing either the F6 and WearLink transmitter from Polar and the NuMetrex Sports Bra (available in white, black, blue, red and razzleberry) for $ 149.- or the Oregon Scientific SE200 with NuMetrex Transmitter and NuMetrex sports bra (same colors as above) for a sweet price of $ 99.-
It's hard now to wait for Christmas but actually, why waiting for Christmas anyhow? It's available now, ready packed and online