Thanks to the help of our readers we have been tipped off to an online shop that sells the sexy LumiTops from LumiGram we have posted about a month ago.  Lightops.com a newly created online store also offers the LumiTops in different models and colors for men and for women.
This cutting-edge, high-tech tops and shirts illuminate your night with a mysterious aura of light.
Differences in the light emissions on the Luminous Fabric is an intrinsic feature that makes each product unique.
PLease keep in mind that this illuminating textiles is hardly or not visible in direct sunlight or broad daylight but sparkles in low light condition like in-da-club where you will radiate with your 21st century fashion outfit.
The fiber optic fabric is like any other synthetic fabric and does not heat up when switched on. However, it can not be folded perpendicularly to the optical fibers which can damage or break those light emitting fibers.
The women models are (from left to right) Lolita, Carina and Barbara.
The men models are Matrix Jean (left) and Matrix Fiber (right).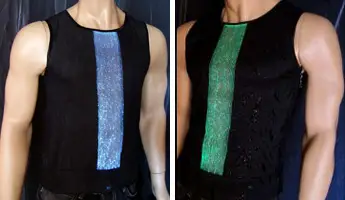 All LumiTops (for women) and LumiShirts (for men) come in three color shades of green blue and white and have the same same price of $ 149.99 each, available by lightops.com with worldwide shipping option.
Create some sparkle in the festive season with one of those Tops or Shirts.