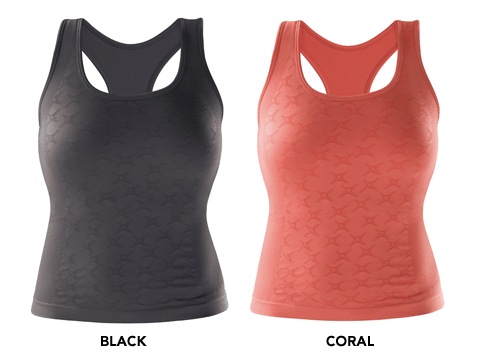 The NuMetrex Heart Sensing Racer Tank features a shelf bra with special sensing fibers knit directly into the fabric to pick up your heart rate.
A tiny transmitter snaps into a pocket in the shelf bra and sends the data to a compatible monitoring device like the Polar heart rate monitors.
I have posted earlier what a very good looking workout gear the Racer Tank is. The only Tank with a heart rate sensor 'invisible' integrated.
The Racer Tank is made of quick drying nylon Lycra with a second-skin fit that offers medium support.
A special bonus for the ladies: a women's specific heart monitor with calorie counter. That gives you instant feedback when you will have burned down that delicious ice shake from the day before.
One more introduction bonus from NuMetrex: answer 6 question and you get free shipping on your next order (I guess US only).
The Racer Tank is now available via NuMetrex online store for just US$ 55.95. The Racer Tank comes with different options like the transmitter for those who have already a Polar monitor and the various packages go up to the most powerful of Polar's Running Computer.
The choice is yours and NuMetrex made the choice very easy.