Summer is in it's hottest phase and with it all the fun and vacations. We have compiled a list of Wearable Electronic products that allow you the get the most summer fun this year.
Or looking for a cool T-Shirt that gets the earphone wire out of the way while skating? Music & Sons has the right Music T-Shirt for you, the Bamboo version is just gorgeous looking and keeps you cool.
Like Levi jeans? They have their Redwire line for this summer in different styles and colors. What a great way to give your jeans an upgrade and yourself appreciative looks when controlling your iPod with your jeans.
No need to take off your hands from the camera while shooting your vacation photos for Flickr.

If your vacation plan includes the beach, Reware's Solar Beach Tote is just the thing you need. Big enough to carry all your stuff for the beach and keeps on generating power for your cell phone and iPod while you get a nice tan.
Having a city vacation? You can recharge your gadgets while sight seeing or having a drink in one of the many garden restaurants with the Solar Bag from Sakku.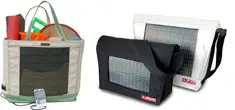 For the active folks who want to stay healthy or get in shape during vacation, my recommendation is the Numetrex or Adidas running apparel with heart rate = performance monitor.
You will look great and sophisticated while zipping past the rest of the running folks.
Whatever your favorite pastime activity is during your vacation, Wearable Electronic products adds a new dimension to your lifestyle.
By the way: you can use those items also on weekends if you are not fortunate enough like me to have vacation right now.