NXT is for sound integration into soft goods what Eleksen is for the integration of textile control buttons into all kind of clothing and soft goods.
NXT's concept of using existing materials and styling elements of bags and backpacks to transform them into a sound radiating speaker is great innovation.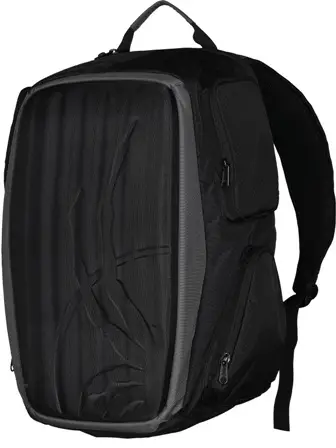 Spyder is launching the Groove backpack this autumn using a Jersey coated EVA panel with NXT technology that is powered by a stereo amplifier.
The result is a durable front panel which emits high quality sound when the backpack is connected to virtually any music devices including iPods, MP3 players and laptop computers via the Groove's universal 3.5mm audio jack.
Three AAA batteries provide enough power to enjoy your tunes or give a presentation for up to seven hours.
With it's almost 30 year heritage of producing cutting edge apparel and equipment for elite athletes, Spyder is renowned for products of the highest quality and the Groove is no exception.
Practical and stylish, the Groove is the ultimate portable speaker system aimed at skiers, snowboarders and outdoor enthusiasts as well as for students, business people and travelers.
The Groove will hit the stores later this year and unlike the hefty price tag that Spyder put on their great looking iPod Jacket ($ 3000.- including iPod), the Groove backpack comes to a very reasonable price of $ 120.- (this time without iPod).