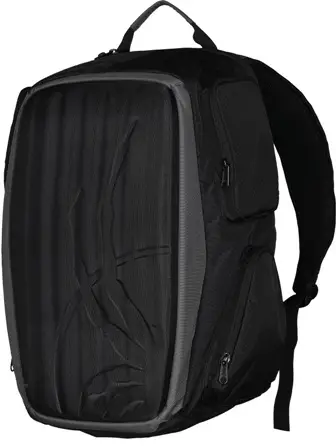 Spyder's Groove Backpack is in store now and ready for you to get up the mountains and race down with the tunes following you, loud and clear. This saves you valuable breath you need for your boarding. No need to shout out to all the novices on the slope to get out of your way.
Need that extra motivational boost from your favorite power song, no problem, turn up the volume and up you go.
You are not one of the sporty types? No problem, the Groove Backpack brings your tunes to the playground, in the park and yes, you can use it in your room as well if you don't have another speaker system for your portable audio player.
I like very much the 'magic' of the NXT sound system integrated into the packs material in a magical way that you can't see it without hearing it. Another advantage of the NXT system is the extreme light weight, it hardly is noticeable.
The sound quality is very good but do not expect that 'boomy' punch as you might want for your groove party. Powered by 3x AAA batteries, the backpack will play for around 7 hours but this will greatly depend on the volume level you need for your action.
Having said this, the Groove Backpack has a sophisticated, 'clean' design – I like the embossed spider legs on the outside panel – and has plenty of pockets and enough room for the most serious boarder or ski fans.
Still want to read more about the Groove Backpack? An excellent first hands-on review can be found by crunchgear.com
The Spyder Adult Groove Backpack is now available for example by iskishop.com or reliableracing.com for $ 119.95