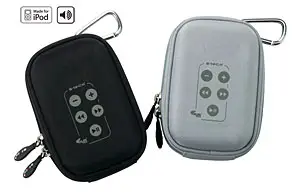 G-Tech announced last January during CES a new water repellent carrying case for iPods. The Sound Shell is a semi-hard case that protects your iPod from environmental hazards.The Sound Shell is made of waterproof fabric, and completely encloses the iPod and makes sure it's completely safe.
But if your iPod is totally enveloped in this case, how can you use it? How can you skip songs or change the volume? That's where the Sound Shell's magic comes in. Integrated into the fabric shell are the pressure-sensitive ElekTex smart fabric controls.
And if this is not enough for you to run out and buy one, G-Tech added sound to the Shell, hence: Sound Shell. The sound magic is provided by using the NXT flat panel speaker technology. Listen to your music privately with headphones or share your tunes with the world through the ultra-thin NXT speaker built right into the shell!
"The G-Tech Sound Shell is a handy and fun way to extend the life of your iPod and have easy access to enjoying your music," said Mark Treger, vice president of sales and marketing of G-Tech.
That's right, there is no better way to keep your 'Pod in shape.
We got word that the G-Tech Sound Shell is now ready for pre-order for US$ 77.- and will ship soon. It comes in silver or black.
Visit G-Tech's online store to reserve your Sound Shell now.