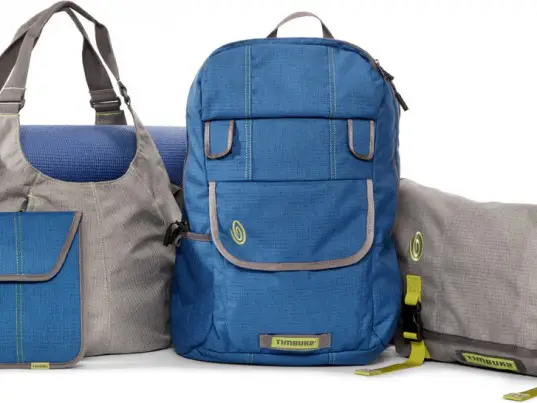 Everyone wants to own a bunch of stuff but nobody wants to ruin the planet while doing it. Global warming, no matter what you believe, is most probably real and most definitely coming to bring us swiftly to a water-soaked dystopia. But what can we do? Stop using tons of stuff? Reduce our everloving carbon footprints? Where do we even start? Well, all things being equal, we guess you could start with your tote bag or backpack.
Timbuk2′s Full Cycle Collection of backpacks and tote bags are made from fully recyclable materials. Watch that carbon footprint shrink down to the size of a happy little mite! Full Cycle's stylish blue and grey bags are made largely from recycled PET plastic bottles and post-industrial and post consumer acetal buckles. These bags would go great with an intense yoga class and a reuseable plastic water bottle. They have a bag for just about any style you can dream up, from totes to backpacks and everything in between. The backpacks even come with a built-in laptop sleeve. On that note, they also make iPad sleeves.
The Full Cycle collection is out right now so you can head on over to the site above and check them out. Who knows. Maybe you'll save a tree or two. Wait, are bags even made out of trees? Scratch that. Maybe you'll save a, um, cow or two. Â The line is committed to the Global Recycle Standard, which spans from tracing each component in the supply chain, including environmental principles, social requirements and labeling.