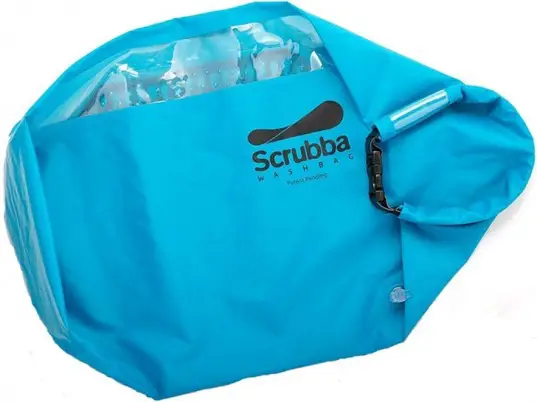 We all like to wear crisp, clean clothes. However, who has the time to throw a load in the washing machine or, gasp, carry it to the local laundromat? Besides, laundromats are some of the most unpleasant places on earth. They are loud, hot and always seem to be playing the exact same episode of King of Queens(the one with the afrin.) Thanks to the wearable technology industry, however, this waiting around for clothes to clean might be a thing of the past. Seriously.
Introducing the Scrubba Wash Bag. This tiny bag folds small into to fit into your pocket, but when you unwrap it is when the clean fun begins. You can throw several articles of clothing in, top it off with some soap and water, give it a few shakes, and viola, your clothes are as clean as the world is young. The drying, however, is all on you. Hang the clothing on a clothesline to dry. Some things never go out of style. This is the perfect item for those of us who don't have room for washing machines in our homes, yet still are loathe to head to the closest laundromat due to a crippling fear of being around other people.
This thing moves fast. It only takes 20-30 seconds of shaking to get your clothes nice and sudsy and, ultimately, clean. Imagine? The power of an entire laundromat, sans dryer, sitting there right in your pocket. Aint technology grand? The Scrubba is available in red, black, and blue for $59.95 AUD and can be ordered through the Scrubba website. Check a video of the bag in action below.