A great new bag for the office worker on the road is the Music Messenger. A roomy bag that features a padded laptop compartment, triple zip pockets under the flap, numerous organizer pockets for cards, pens, notes inside the zip pocket in the back, a phone pocket and a water bottle pocket on the side.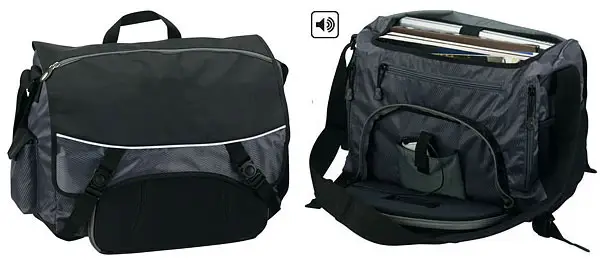 The Music Messenger has built-in the ultra-thin NXT speaker as well, it provides good sound quality anywhere you go by connecting to your laptop, iPod or other audio device. 3AA Batteries for the speaker will get you over the day in sync with your tunes and you can spice up your presentations between.
The Music Messenger Bag sells for $ 55.99 by this online store for example.
Music makes many thing easier and work is on top of that list that need musical 'framing'. Those bags offer an alternative for certain jobs where earphones are not allowed or dangerous to use. Getting sound from the work bag is an additional and practical feature.