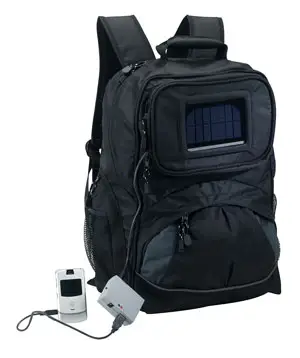 G-Tech added to their massive range of Wearable Electronic bags of all types and functions a new model, the Solar Backpack.
Catching sunlight and converting it to power for the many electronic gadgets of the road warriors is going to continue to be an increasing trend.
The Solar Charging System (SCS) from G-Tech is a module that is detachable which can also be also charged by an A/C adaptor and used on its own as a regular charger. A unique twist to the solar charging function with practical value.
The charging system will work with electronic devices such as cellphone, PDA, digital camera & iPod. 5 adaptors are included for Motorola mini USB, Nokia, Samsung, LG & Sony Ericsson.
Unfortunately there is no iPod adaptor (the standard size USB type) which means you will need another adaptor from mini USB to standard USB connector. I would have liked to have an iPod adaptor in the accessory list considering the high probability that potential consumers will own an iPod.
One word to the styling: the integration of the solar cell is not the most creative and seamless solution I have seen so far. It also looks like the solar panel is from the stiffer type and not the soft, flexible version used in many bags nowadays.
Having said this, the Solar Backpack will give you the extra power on the road when no power socket is near you.
The G-Tech Solar Backpack sales for $ 138.4 and can be ordered online for example by getabag.com