We have an update on the Professional Messenger Bag we have posted back in October last year: the Professional Messenger Bag from G-Tech is now available and ready to ship.Short summary of the Professional Messenger Bag: A iPod remote control keypad based on Eleksen's ElekTex 'smart fabric' is integrated into the shoulder strap to conveniently control the iPod that is stored and protected inside the Bag.
Also built into bag is a thin, flexible loudspeaker from NXT that leaves your ears free to hear traffic and let you share your music with your friends and the world around you.
Fortunately to the people around you, you can turn off the NXT speaker and listen trough 'normal' headphones as well.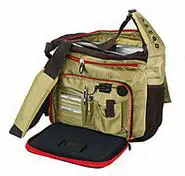 The 'speaker in the bag' function comes handy if you want to make your presentations more livelier with sound; just place your bag on the table. Or have action sound for your games when you are on the road.
Via the built-in connector, you can use the speakers with any music player, PSP, laptop and whatever has a 3.5mm headphone socket.
The Speaker function requires 3 x AA batteries and should last for around 5 hours, depending on the volume setting.
The Professional Messenger Bag is available in brown and black and goes for US$ 129.- either direct via G-Tech online store, which ships the Professional Messenger Bag worldwide.