Having the right outfit and tools in business life is very important for any deal. Be it to close a contract with your customer, get a new client or impress your boss to get you noticed and the promotion you deserve.
To give you some ideas for your business outfit, we have compiled a list of unique, innovative products that will help you in achieving your business goals by showing that you are 'in the know' of the latest developments.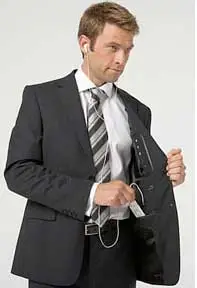 The start of our list makes the iPod suit from Marks & Spencer. It has a decent look that will blend into any board room seamless except for the fact that you have a discretely hidden feature at your disposal, the iPod control on the inside of the label. Unfortunately there is no iPod enabled business attire for women on the market yet – Listen up all you clothing companies out there and change that soon!
What will you get by wearing this suit: appreciative looks and the image of being someone that likes to add a twist to the game of life and business.
The next essential tool for successful business in our list is to get one of those sound emitting riefcases. The ideal way to show off your innovative skills by using your briefcase as the audio source for your presentations.
Our recommendations include the Laptop Bag from Marks & Spencer or the slightly roomier Sophisitcase from G-Tech. Another elegant looking product is the Computer Sleeve with sound again from G-Tech.

 All of them are based on NXT's sound system that allows the complete integration of the speaker right into the bags material hence, the sound comes out of the briefcase like magic.
Using one of those briefcases will guaranty you the oohs and aahs. Don't get fooled, even if they do not show it on the outside, your coworkers, customers and boss will be impressed from your cool presentation show.
If Backpacks are your favorite carrying gear, you can select from a wide range of backpacks that have either specific for iPod or generic MP3 player controls build into them.

Two examples are the iBlaze, a very good looking Backpack that can take almost your complete office into it. Perfect for people that spend a big part of the business hours on the road. Another option is the C.O.R.E backpack from Nike. I use it for myself for 8 month now. Reliable, not too big and it survived many flights around the world bravely.
I could not live travel without it after getting used to the convenience of quickly changing the volume or switch to another track 'on the fly' without taking the iPod out of the pocket. The C.O.R.E is smaller than the iBlaze but ideal for traveling, having the iPod, the notebook and some magazines always on hand.
A backpack with NXT sound is an option too, just check out the Revolution from G-Tech (yeah, they are doing a lot of innovative bags). You can use the sound feature for presentation and/or just listen in your hotel room to your favorite tunes after a hard day of business.
This concludes our list of recommendations of Wearable Electronic products for business. As you can see, there is already a sizable selection of interesting products on the market although more products and more diversity is desirable to give more choice to consumers.
Using these products is an option than allows you to elevate yourself a little bit above the average and shows that you think about how to present yourself in the business world.