We are in the middle of the summer season but for the apparel industry and stores, the work has started on the coming Autumn/Winter season to get us fashionable and protected against the cold weather.
After we have posted first images from the new O'Neill Jacket collection, we have another new member in the Wearable Electronic and iPod fashion market:
Toronto-based Levelwear is preparing the launch of their new 3-in-1 waterproof / windproof / breathable ski coat using Eleksen's 'Made for iPod' system.
"When we saw this (ElekTex) technology at ISPO, we knew that it was something we wanted to use," says Jeff Church, sales manager at Levelwear.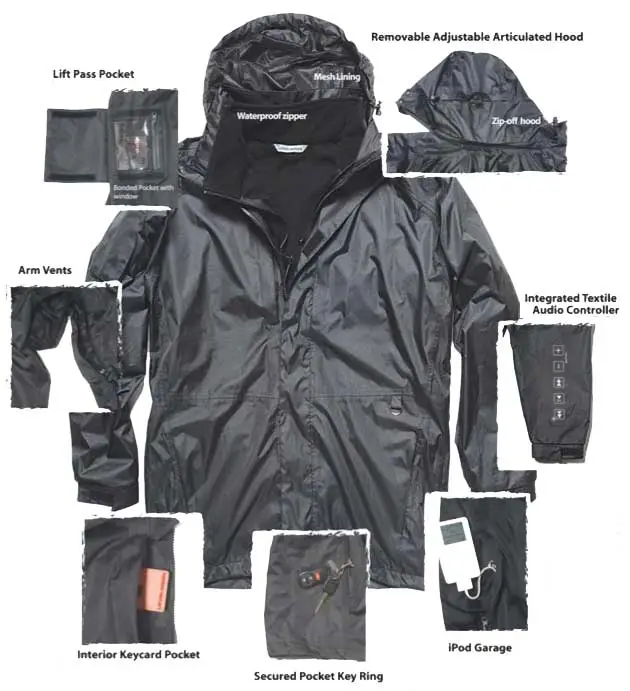 A seam-sealed interior pocket called the 'iPod garage' stores the iPod and connects it to the control panel located on the sleeve.
The touch controls have the usual function of the Eleksen system like play/pause, control volume, skip tunes, on/off. The keypad can be locked to avoid accidental activation e.g. you or someone touches the control panel area on your sleeve.
The jacket is made from durable rip-stop nylon, with a premium removable micro-fleece interior jacket. The three-in-one design incorporates the luxury fleece, which is part of Levelwear's heritage.
Levelwear is a leading supplier of high quality , athletic inspired apparel with a focus on unique and luxurious fabrics.
The Jackets will be available coming November in two colors (Black and Navy) for both men and women, the Cascade Series will have a price tag of under US$ 300.- a very reasonable price for this multi usable and functional high quality Jacket.
We will keep you updated about more product details, availability and where to buy.