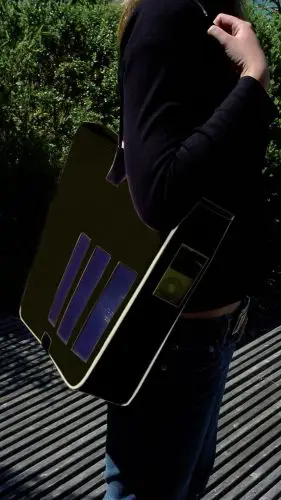 ISPO Sport & Style 2007 is just one week away and the first previews and announcements are coming in. The start makes the SolarShopper Bag. Shopping in style, take care for the environment and ensure your gadget never run out of power (on sunny days), this is the characteristic of the cool shopping bag.
Charge your cell phone, PDA that has your shopping list stored, your iPod or other music player or any portable device that can be charged via USB or DC plug up to 6V and 3W.
The SolarShopper Bag features also an 'on board' battery to store excess energy to top-off your power hungry gadgets when you are inside the shopping mall.
Do not worry about the weight of this additional power station feature, the bag weights just 0.165 kg or 5.82 ounces.
I'd say a handy, yet again practical addition to the ever growing number of Solar powered bags.
You can choose between five different colors for the bag: White, Blue, Black Yellow and Brown.
Order your SolarShopping Bag online via this dedicated site for 149.- Euro which is around 200.- US$.
The distribution of the SolarShopper Bag is via Navispace AG from Germany, a Technology-Marketing specialist with focus on business development and sales and is heavily involved in the promotion of Wearable Electronic.