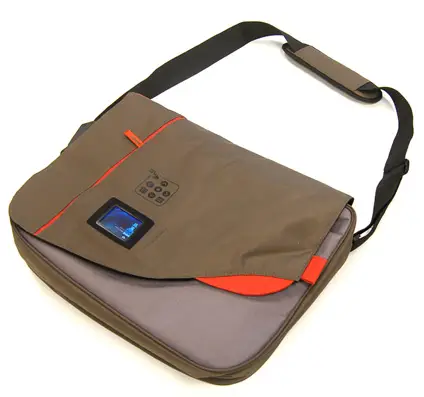 Eleksen introduces a (non-working) demonstrator during the CES, a concept of combining their Fabric Keyboard with a display and integrate them into a Messenger Bag. The concept of using a second display is based on the SideShow feature of Windows Vista.Vista's SideShow enables a secondary display to be used to show information like calendar, emails, photos, and so on. Products like the latest, Vista enabled Notebooks make use of SideShow and have a second, smaller display on the outside of the notebook casing.
Eleksen integrates the secondary display together with their fabric keypad in a module that goes into a bag. This module can receive data from a notebook inside the bag either wirelessly through Bluetooth or via the USB connection depending on the application.
A 2.5 inch LCD display presents the information to the user. Both portrait and landscape configurations can be supported depending on the industrial design requirements.
ElekTex fabric controls allow navigation and access to the information. Additional controls can be added for enhanced functionality or to support new applications such as MP3 playback, photo album show, video clips, etc.
This bag is a nice concept idea from Eleksen. Using a conventional, glass based small display in a bag that can be designed to support the fragile glass display can make it robust enough for practical use.
Using the same (Glass) display on clothing, as suggested on Eleksen's product page (see pdf document at the end of the page), is a bit off the point. I can not imagine anyone would like to have this display brick in clothing or – god forbid – hit something hard and have the display shards all over ones body.
As this is a concept only, no price indication is available or a possible partner to commercialize. We will keep an eye on it and as soon a first product is ready to hit the market, you will read about it here first.