Eleksen is on the way to set a new standard on how interactive apparel will be made with the launch of the eSystem according to a press release from businesswire.com
I have first seen samples of the eSystem last June during the Avantex in Germany which has the potential to revolutionize the interactive apparel business.
This solution offers a high degree of flexibility and lets the consumer decide which personal electronic devices they want to control with their interactive clothing.
The different eSystem modules are sold separately (see image above) which allows the consumer to select the functionality matching the gadgets they own. Consumers could buy more than one module and, depending on the function needed on certain occasions, plug in the eSystem module that fits best the situation.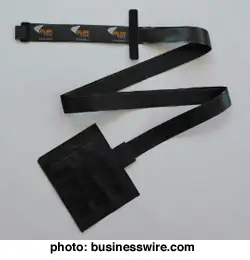 The eSystem consist of three new sensors incorporating Eleksen's new SensorID technology, which allow apparel designers to use any of 16 different six-button layouts in their designs with any eSystem control electronics.
The eSystem will also help the apparel manufacturers and retailers by taking out the burden of managing electronics on their part while Eleksen assumes the responsibility for their module development, production, technology licensing and after-sales customer support.
This all sounds great to me and I would expect with more simplicity everywhere, by designer, manufacturer, retailer and us the consumer, the cost of interactive apparel and bags could go down as well and Wearable Electronic can become part of our everyday outfit.
According Eleksen, the first eSystem ready apparels are expected to hit the stores in fall 2008.