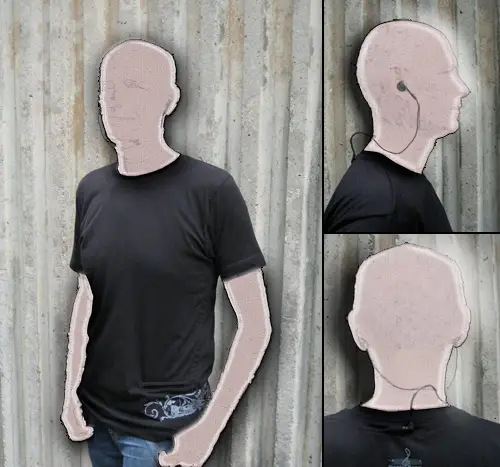 The BAMBOO fabric feels very good on the skin, soft and light. I appreciate the skills of Italian design and manufacturing, they make perfect fitting clothing like no other – I am always amazed by the sophisticated cut and the BLACK-eco is no exception. The printing is nicely done with the touch off being hand made, slight distortions that give character.
The earphone connector on the back is well hidden and hardly visible when no earphone is plugged in. Instead of using conductive yarn from the connector in the front pocket up to the earphone connector, a 'normal' very soft wire is used which is sewed into the seam on the side of the T-Shirt.
This might not be the most sophisticated integration of electronic components into fabrics but I can see the point in keeping it simple and I guess this enables Music & Sons to offer those T-Shirts for a reasonable low price.
Nevertheless, this simple integration does the job very well: getting the headphone wires out of my way. Up to now, I had to pull the headphone wire of my iPod underneath my T-Shirt, trying to find the best position for the cable to stay in place during my daily routine. The BLACK-eco solves this hassle perfectly.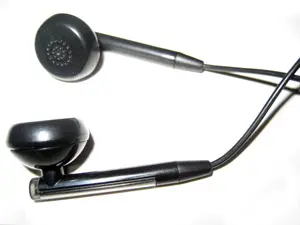 he earphones that came with the BLACK-eco are much better than I expected. They look great, they fit well (or even better) than the earphones that came with the iPod.
Music & Sons earphones have a very good sound quality and they come with a short cable, just long enough to give free movement with the head and short enough not to interfere with my life and music enjoyment.
Cleaning the BLACK-eco is straight forward, a washing instruction comes with the T-Shirt: hand washing and during ironing stay clear of the connectors (they are made of plastic).
 I do have a suggestion for improvement to the front pocket for the audio player:
The iPod Nano fits perfectly, the iPod G5 does 'just' fits. It would fit better if the plug in the pocket would have the same shape (angled) as the plug on the earphone.
The straight shape of the pocket connector makes the cable sticking out of the pocket a bit.
Having said this, the BLACK-eco is a fabulous looking T-Shirt, sophisticated simple and useful. I use it not only when outdoors; it's also great in the office, having the freedom of moving around without worrying about the earphone cable getting in my way. It almost feels like having a wireless headphone – seriously.
If you are interested in buying one of Music & Sons T-Shirts, consider ordering more than one, once you get used to wearing your music you will demand that all your T-Shirts have this feature.