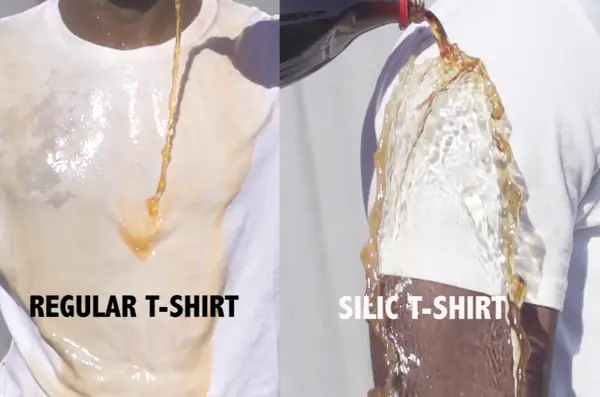 Wearing t-shirts is really awesome. Eating heaping bowls of spaghetti is also awesome. However, they aren't always awesome to do together. For one, all of those carbs will really make your stomach poke out of that tee. For two, well, you are liable to spill a whole bunch of sauce on your crisp new shirt, rendering yourself an obvious slob to everyone that meets you. Technology, thus far, has done nothing to make slobs less noticeable. If only someone, somewhere would do something for us mess-heads and overly enthusiastic eaters. Well, hold on to your half open burrito, there is now a t-shirt that cleans itself.
It's called Silic, for reasons that aren't abundantly clear. This shirt uses hydrophobic technology to wipe grease and stains away before they even start. Wait, doesn't hydrophobic just mean someone who is terrified of water? Yes, but in this scenario make that someone a t-shirt and you'll be on to something. Liquids are quite literally forced off of the shirt like two similar magnets coming near one another. Also, this collection was designed by a former Vera Wang staffer so you can be sure it is well sewn and fits comfortably. Oh yeah, it's also washable. Not bad for shirt that will finally allow you to eat Taco Bell in your car again.
The Silic shirts haven't gone to market yet, as they need more piggies to go to town and fill up their bank account. They've taken to Kickstarter to raise funds. They broke through their initial asking amount in just one day so you can be sure they are on to something here.
http://www.youtube.com/watch?v=IPKIcz3fVrU