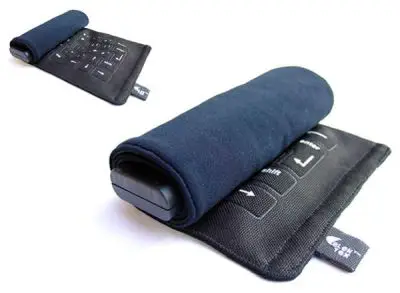 Christmas is coming soon – here is a great tip for a futuristic gift for the busy, highly mobile, always connected trend setter: the Wireless Fabric Keypad for BlackBerry, Pocket PC and Smart phones from Eleksen.The unique, cutting-edge technology keypad is made of ElekTex Smart Fabric.
It can be rolled up to take with you anywhere! If unfolded, it's a full sized standard keyboard. Simply connect via Bluetooth to your smart phone or PDA to type emails, chat or write your reports.
The Fabric Keyboard is available now in different online stores specialized in PDA and mobile phone accessories. The wireless fabric keyboard is attached at one end to a plastic box holding two AAA batteries and the Bluetooth electronics for its wireless data connection to a PDA or phone. The whole item weighs just 68g.
Eleksen provides a range of drivers on its web site, and these are installed by downloading to a PC and synchronising with the mobile device. The supported platforms include Palm OS, Windows Mobile 2003 and 2005 (both Pocket PC and smartphone versions), BlackBerry, and Symbian phones with either the Series 60 or UIQ user interface.
The Eleksen Keyboard is waterproof, pierce resistant and highly durable and is robust enough to cope with frequent use and travel – and coffee spillages!
The technology used for this keypad is also used in many of the Wearable Electronic Jackets and Backpacks introduced in our Blog.
The Fabric Keypad can be ordered via this online store for $ 130.-