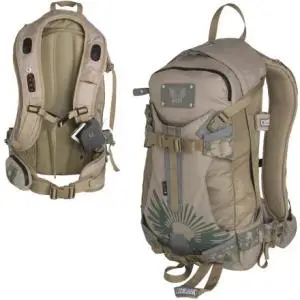 CamelBak, the originator and world leader in hands-free hydration systems has teamed up with Skullcandy for some serious backpack convergence with the Camelbak Hellion SC 100oz Pack.
The Camelbak Hellion SC Hydration Pack is the ultimate combination of music and style.
It has a built-in Skull Candy Link MP3/Phone receiver and two waterproof speakers on the shoulder straps for bumping tunes all the way down, or up the mountain. Hook up your iPod, mobile phone or a number of other mp3 gadgets.
The Hellion uses Skullcandy's Link Technology for the audio part.
The waterproof speakers are located on the upper straps. Any kind of music source can be plugged into the 3.5mm jack which is built into the strap as well. Control volume with the Soft Touch Panel located on the mid strap. It also allows hands free mobile phone conversations with music interrupt, all controlled by the Soft Touch Panel located on the mid-strap. Voice is taken by a mini-mic buried in the strap with sound coming out from the waterproof speakers.
The product features at a glance:
Weight: 4.38 lbs
Volume: 1404 cu in (23.0 L)
Reservoir capacity: 100 oz (3.0 L)
Skull Candy Link Technology
Carries a board vertically or horizontally and skis diagonally
Dedicated storage for shovel and probe
Our verdict: a good looking Hydration bag with mobile phone / audio management but the control functionality is limited to volume only. And you need 2x AA batteries to power the LINK system. On the plus side, works not only with the iPod but with anything that has a 3.5mm audio output.
Oder your Camelbak Hellion SC 100oz Pack for $249.95 by backcountry.com