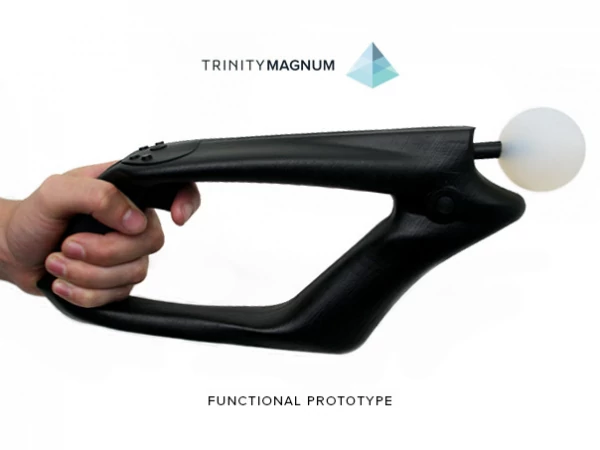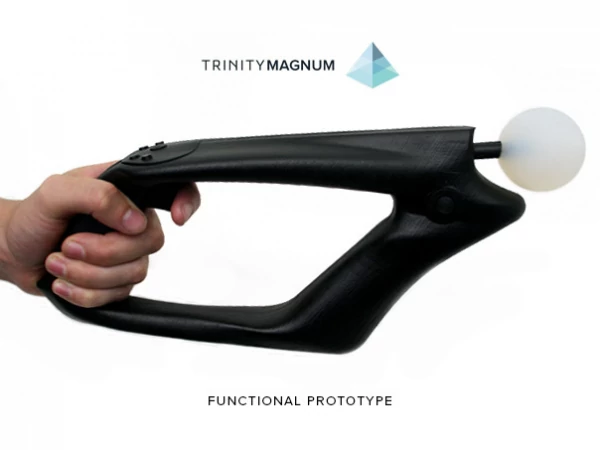 We all love virtual reality helmets like the Oculus Rift. Nobody is disputing that. However, there is one tiny/big problem with the whole VR expensive. What is that problem? Well, while your head and brain are "in the zone," the rest of you is still holding a video game controller or, even less immersive, a mouse and keyboard. This doesn't exactly make you feel like you are in the game. It's high time some companies started making the rest of the experience as memorable as the one going on around your eyeballs. Thankfully this is starting to happen.
Introducing TrinityVR and their forthcoming Trinity Magnum VR controller. Essentially, this is a device you hold that translates your arm motions to avatar motions on the screen. It's shaped like a gun, of sorts, and even has a trigger where the trigger would be and all of that stuff. The end result is total immersion, especially for first person shooters and other genres in which you are waving a gun around. Although, one would imagine it wouldn't be too much work to turn that into a sword. It offers low latency and the holy grail of 1:1 motion tracking. This is similar tech to that which is found in Nintendo Wiimotes and Sony Move controllers, but kicked up a notch.
Being as how you can't even walk into a store and pick up a Rift, it also holds true that you can't walk into a store and pick up a Trinity Magnum. The makers of the device have taken to Kickstarter, however, to raise finishing funds. You can pre-order your own for around $80. Hey, that's actually pretty cheap. Not bad guys.