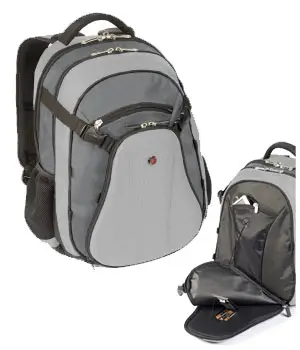 Targus Inc., maker of top-selling laptop computer cases and accessories, announced their latest addition to their line of backpacks and laptop carrying cases. The SonicPak speaker backpack.
Throughout last year we have seen a growing range of speaker bags coming to the market and we speculated if those speaker bags are the next generation of 'Boom-boxes'.
In the 'old days' of Boom-boxes, it was fashionable to carry large yet transportable music centers around the city.
Today, everyone has his/her little MP3 player, iPod or audio cell-phone where only one person can listen to the tunes, there is not much possibility of sharing your music.
Plugging the iPod and MP3 player into the bag brings back the music sharing with friends and anyone nearby.
The SonicPak comes in silver tones and features a padded compartment for protection of laptop computer up to 15.4 inches. A custom made pocket provides a nice place to store an iPod, MP3 Player or any other audio device with headset capability.
The SonicPak has a removable sound panel in the front and is made from shock resistant EVA material to protect the integrated lightweight amplifier and NXT magic sound 'exciters', giving quality sound at an impressive volume. The amplifier is powered by 3x AA batteries and has an on/off switch plus a power-indicator LED light.
Additional features of the Targus SonicPak include: side mesh water bottle holders, adjustable padded shoulder straps, molded carrying handle, oversized zipper pulls for easy gripping, and plenty of pockets for your accessories.
Targus' new SonicPak backpack will be available in March 2008 for a suggested retail price of $99.99
Keep checking our site, we'll let you know as soon as Targus starts shipping the SonicPak.