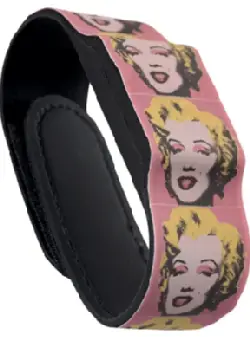 BQ Wireless is putting more control option for your cell phone into your hands, actually on your wrist.
The BlueQ Wristband gives a gentle vibration on your wrist when your cell phone receive a call.
This comes very handy in situations where you are not supposed to have your ring switched on like in meetings, theaters, cinemas, loud environments and sport activities. On other occasions you might have your cell phone stored away in a bag and you still don't have a multi media backpack. The BlueQ Wristband helps you to not miss your important calls.
The BlueQ's battery will work for about 30 hours on standby. Charging is done via USB, computer or direct AC connection with a conventional USB cable/charger like for the iPod.
Very interesting is the option BQ Wireless offers on their Website: you can upload any of your photos and have a custom made design of the skin. Make the BlueQ Wristband your style, is a nice and very useful helper to stay connected.
Although the BlueQ Wristband is not strictly speaking based on Wearable Electronic technologies it is nevertheless a technology packaged into the fabric of a wearable product. May we see such simple but very useful function merged into other Wearable Electronic products like clothing? Shouldn't be too difficult – isn't it?
No price indication of the BlueQ Wristband yet but it should come to the retail stores soon according the BQ Wireless Website.
[via:
gizmodo
]