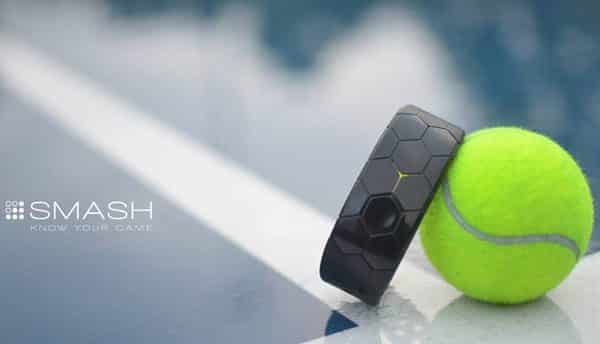 Ah, golf tennis. The game of kinds. The game that takes both a lifetime to learn and a lifetime to master. OK, maybe the situation isn't quite that dire but, as anyone who is a fan of the game knows, tennis is downright difficult. That ball is so small and that racket is so ornery. Not to mention the person on the other side of the court is usually pacing up and down like kind of caged animal(McEnroe reference.) In short, tennis players need all the help they can get in order to improve their game. Luckily, the wearable technology industry is on that like some weird financial firm's commercials during the US Open.
Introducing Smash, a wristband designed from the ground up to help you, well, smash the tennis ball better. The wristband uses motion sensors to track most aspects of your swing, ranging from spin to your favorite types of shots. It gets a general sense of your skill level as well and then beams all of that information to the iOS or Android device of your choosing, where it can be perused and frowned upon at you convenience. Pretty soon, your volleys will receive more power and your backhands will be as consistent as morning dew on a spring day.
This tennis-loving wristband isn't out yet. The creators have volleyed on over to Kickstarter to receive finishing funds. You can preorder your own by plunking down around $115. Here is a video to get you into the spirit of things.
https://www.youtube.com/watch?v=CyhQ85Yk4eo