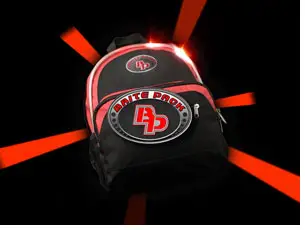 Tomorrow Incorporated, a new consumer goods company that produces toys and wearable apparel for kids, have developed the Britepack, the latest light enhanced bag.
Triggered by movement or impact, the Britepack sets off a pattern of LED lights and shuts off when the bag is put down. Its fun for kids and has strong parent appeal, since in low-light conditions kids can be more readily seen in traffic and urban areas.
'The light-up and roller shoes have been available for awhile now, so we wanted to take "wearable tech" to the next level,' said Jim Huntley, Chief Marketing Officer of Tomorrow Incorporated.
Next to the fun the kids will have with the lights, parents can appreciate the safety aspect Britepack provides as it gets darker earlier during the winter months.
The light power is driven by two AA batteries. May I suggest to Incorporate in the next version of the Britepack the electricity-generating concept for backpacks that has been developed by Lawrence C. Rome and his colleagues from The University of Pennsylvania. This concept needs motion = walking as well and combining both eliminates the need for batteries. The perfect environmental friendly solution for the Britepack 2.0
Check out the video below to see the Britepack in action:
Pick up the Britepack which is available in different colors and measuring 5×13×17 inch for just $ 39.99 through Amazon or eBay.