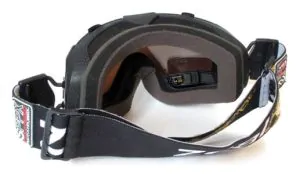 Recon Instruments and Zeal have teamed up to bring us their Transcend GPS-enabled goggles. The best part? These goggles are already available for order. In case you were keeping track, these are the world's first pair of GPS-enabled goggles. All of you fancypants skier and snowboarders out there are in for a treat.
There are two models to choose from. The $499 Transcend SPPX is fitted with an SPPX polarized and photochromic lens, while the $399 Transcend SPX features an SPX polarized lens. Really, the price isn't as exorbitant as it could be considering those "fashionable" Oakleys don't have anything by way of GPS and they cost just as much.
They both come equipped with a Zeal Optics micro LCD display. The amazing head-mounted display provides real-time feedback to the wearer, including speed, latitude / longitude, altitude, vertical distance traveled, total distance traveled, a chrono / stopwatch mode, a run-counter, temperature and time. Yeah, cool right? These mega-goggles are available for order right now. So get out of the hot tub and order a pair.