Behold the Osiris G-Bag. The Osiris G-Bag is the latest backback to combine speakers and integrated controls with your favorite portable audio player.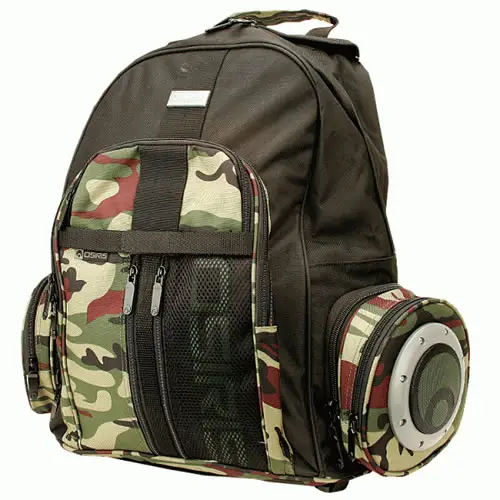 Over the last 12 months we've seen an influx of bags and backpacks with integrated sound systems. This is great considering that boomboxes have disapeared and it is nice to play sound LOUD sometimes! The best part about these sound bags is that you are already carrying a bag with you when your outside so the fact that sound is integrated into something you are already taking with you adds to the convenience factor.The integration of sound into bags and UI (User Interface = control buttons) give your tiny personal audio player a big and booming voice.
The Osiris G Bag is the ultimate piece of luggage. Featuring a 120 watt amplifier and two large, removable, built in, ten watt, water resistent speakers. The Metatron 1080 is the smaller model from the collection, but the sounds are nothing but big! It is the complete mobile urban sound system, the versatile speakers and built in amp are tough, durable and completely removable. The bag comprises of one large main compartment with additional sections for everyday items, contoured&padded shoulder straps for added comfort and… of course… the system yo! Features the Osiris Urban Sound System. Includes dual detachable speakers and amplifier, durable compartment for media player, main zipper compartment, multiple accessories pockets, visible mesh pockets, removable waist strap,adjustable shoulder straps, removable chest strap and a strong carrying handle. Requires 6 or 12 AA batteries. Runs longer on 12 but will work with 6.
The 'G-Bag' from Osiris
17″h x 12″w x 8″d
Detachable, water resistant 10 watt speakers
Soft lined pocket for MP3 player
Chest straps for added security
Mesh pocket for secure storage
Water bottle mesh pockets
The complete urban sound system
DOES NOT come suppllied with batteries
The Osiris g-bag comes with a complete sound system of 10Watt booming out of water resistant speaker. The g-bag can be loaded either with 6 or 12 AA batteries, depending how long your street party will last.
The Osiris G-Bag is available via this online store for a price of $200.