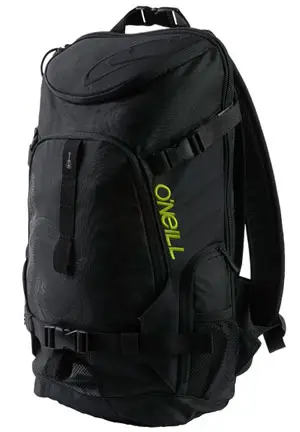 We know know of an online shop which offers the brand new H4 Campack from O'Neill. The H4 Campack is a 'must have' for all YouTube-action-video fans around the world.
Before we get too exited about the video part of the Campack we should not forget that the Campack is first of all a Backpack for the Snowboarder. There is lot of room to get all the stuff needed for a day on the slope with pockets for everything from keys to the water bottle. The board can be either horizontal or vertical fixed on the Campack.
The video part starts with the helmet camera which can be fixed to your helmet or goggles, whatever you like best. The large record button is on the shoulder strap for easy reach and operation and get the best action videos transmitted to the portable media player which is stored safely in the Campack's dedicated pocket.
The on-board battery of the portable media player will be fully charged in just 2 hours and gives 4 hours of video recording. Four hours should be enough even for the fittest boarders. The internal memory (512 MB) holds around 40 minutes of action but with a 2 GB SD/MMC card, you can get 160 minutes without the need to stop and reload. Better get up and fit for the H4 Campack now.

Available is the H4 Campack by the German online store Blickvang.de for € 299.- that is around 422.- in US$. For that money you get next to the H4 Campack the Helmet camera with extension cord, Battery holder, the Portable Media Player of course, a USB cable to download your action to a computer and a Battery charger.
According to information gathered online Blickvang is shipping the O'Neill H4 Campack worldwide.