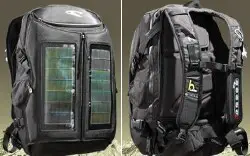 Sports equipment supplier O'Neill introduced in late 2005 a limited edition of this Communication Entertainment Solar Backpack.
The CommEnt Solar backpack is one of three products created in collaboration with ElekTex smart fabrics. In the same range is also available the CommEnt backpack, essentially the same product but lacking the solar charging panels on the rear and the CommEnt Jacket which allows the user to control their music via arm mounted controls.
Via the integrated Bluetooth wireless link and the iPod remote controls in the shoulder strap, you can conveniently manage your music listenting and mobile phone calls without touching the products itself. A conceald microphone and headphone connectors have been integrated into the Backpack do allow this 'hands-free' functionality.
The solar panels (can be removed if not wanted/needed) can generate and store energy, good enough to extend the operating life of the both devices by up to 4 hours each.
Unfortunately, it was only a limited edition and was 'sold-out' the day it was announced. A nice, cool product and we hope one day soon, either O'Neill or someone else will bring a similar product to the market that can actually be bought.
For more information, visit the O'Neill website.