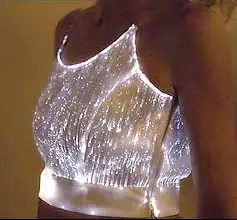 Add some sparkle to your life with this Luminex Mini-Top. We posted already earlier about the Luminex technology, the exiting way this Italian company is bringing active colors in our lives.
I find this Mini-Top very cute and it will be for sure the highlight of every evening or party in the coming holiday season.
The Mini-Top is available in two colors, white and black. It can be ordered online on Luminex's online store for 175.- Euro but be aware that you have to order the battery pack for 18.- Euro as well as the battery charger for another 14.- Euro. That makes it together 207.- Euro. Not one of the cheapest Top but definitely a very enlightening Top.