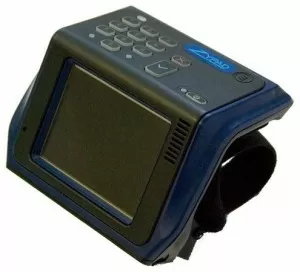 The Eurotech Zypad WL150 may look like some 1990s vision of a tablet, but that doesn't mean it's not cool. It's a computer you wear on your arm. This thing is perfect for the medical field, among other uses. Plus it has kind of a retro Star Trek look which is always nice
The WL150 features a 3.5 inch QVGA resistive display, a Marvell PXA320 processor, a paltry 128MB of flash storage, 3G connectivity, WiFi and Bluetooth. The OS of choice is Windows CE 6.0. Now, you may have realized by now that this doesn't have far reaching consumer implications. However, it is being marketing to a variety of industries, including the medical and law enforcement fields.
It will be formally released later in the year. The price has not been disclosed.