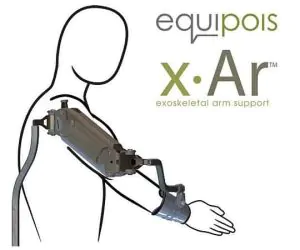 Equipois and their x-Ar exoskeleton could have a ton of functional uses. This exoskeleton arm attaches to your wrist and eliminates the feeling of weight. The theory is that it will help to make repetitive tasks safer, preventing you from falling into a dangerous lull.
It was just unveiled at the Applied Ergonomics Conference in Florida. Here is how it works. It attaches to a chair or any other stable object. Then you just keep on doing what you were doing. It allows for an exceptional range of motion. The company thinks it will find plenty of uses in assembly lines and factories where workers are doing the same thing with their arm over and over. Hopefully it will even save some workers from injury.
No word on when it will become available to lowly tech bloggers, though.