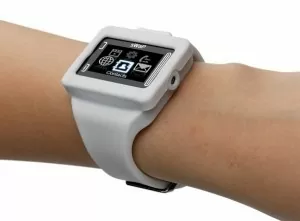 Swap is making all of our Dick Tracy dreams come true with the release of their Rebel watch/phone hybrid. This quad-band GSM wearable wrist unit comes packed in with a 1.46-inch color touchscreen and a built-in camera for both video and stills. Is that all it does? Heck no!
The Rebel also features a hidden USB port, to which you can load MP3s, videos and whatever else that suits your multimedia fancy. It has 2GB of microSD storage so load it all in. It also does FM radio and comes with a bluetooth headset for you professional types. It's also, obviously, a functioning phone.
It costs around $300 right now which really isn't too bad considering the coolness and portability factors.