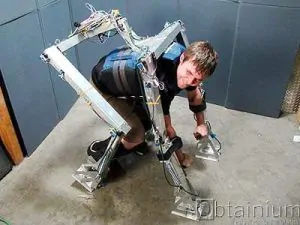 The market for motion capture exoskeletons is not very crowded. Ugobe and their Pleo is just about the only one. This exoskeleton does what it is implied, namely doubles as handy outerwear for motion capturing. Just imagine the possibilities. You could be your very own Jar Jar Binks!
This is just a prototype model and, unfortunately, will forever be one. The parent company Ugobe has just filed for bankruptcy and will not be making these models available for the general public. Be the only kid on your block to EVER own one. Your Youtube feed will never be the same.
It's for sale at around $2,400 or best offer. Be there or be square, or whatever CGI shape that pleases you. Update:Â  The underlying tech has since been bought by Innvo labs and is now being used to make robot dinosaurs. Really.