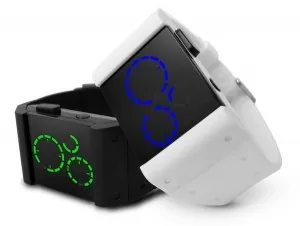 Tokyoflash of Japan have released the Kisai Satellite watch, which features flashing LEDs and is charged via a USB connector. Just look at that thing! This could be the perfect timepiece for those of you still obsessed with Tron.
Time is told via green or blue colored LEDs and, as stated, it's charged via a packed-in USB cable. Gone are the days of having to change those annoying dime-sized watch batteries. Yet another industry the Internet age has squashed.
Tokyoflash, as a company, is known for a series of concept and prototype watches. Don't worry, though. This one is available and costs a cool $90. Check it out here.