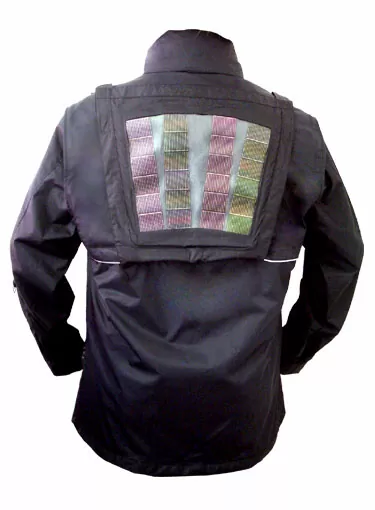 Scottevest was one of the first wearable technology clothing comapnies to appear on the wearable tech scene. They have a huge range of men's and women's jackets. They also have shirts, pants, and sweatshirts.
All of their Jackets have the unique capability that allows you to attach solar panels to supplement the power of your portable devices.
The solar panels enable you to recharge your USB compatible devices on the go, simply by wearing the jacket. The solar panels compliment the jacket's look, so don't worry about not being fashionalbe with this jacket.
The way it works is that the solar panels charge a small battery – about the size of a deck of cards. The battery powers your device almost immediately after the solar panels are exposed to sunlight. Once the battery is fully charged, the panels can be removed and your portable electronic device can tap into the stored power.
Scottevest offers different styles that are designed to seamlessly attach the solar panel module. The Jackets can be used without the solar panel as well without the look and feel that 'something' is missing.
The Jackets start from US$379.00. The solar panel can be bought separately in case you like at first to have the Jacket only and 'upgrade' your jacket later. Or, you may want to buy the solar panel unit first and use it without the jacket. The solar panel unit alone costs US$150.00
You will need to check out what devices can be charged and which connector is needed to connect to the solar panel. Scottevest offers connector kits as well.
For more details or to order online, go to the Scottevest website.