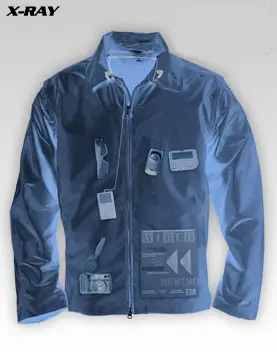 ScotteVest has been selling technology enabled clothing for around six years. Although their clothing does not have any electronics integrated, they have recognized the need to manage the growing number of personal electronic devices on and inside our clothing. Depending our your needs to be always online, stay connected in any situation, enjoy mobile entertainment and stay informed, you will have a cellphone and PDA, a Blackberry, an iPod, a digital camera and then all the other stuff like car and house keys, wallet full with VIP cards and so on.
ScottVest addressed this issue of handling all those little things with cleverly designed Jackets, Vests, Shirts and pants that help organizing all that stuff neatly. That's why ScotteVest clothing is called: Technology Enabled Clothing-TEC®
I am sure many have seen the X-ray image ScotteVest uses to visualize their idea of the Gear Management Solution their clothing is designed for.
In the early days, ScotteVest jackets may have not been the most fashionable outfit around but this has changed dramatically over the years and the resent addition of a new women jacket and vest with a cute style and cool design gives an additional option while shopping for the next jacket or vest for everyone who needs to handle all the indispensable stuff we call productivity tools.
The soon-to-be-launched (in December) Essential Jacket and Travel Vest for women look good and are designed specifically for women by taking into account female body shape – thanks. All together 18 pockets are spread all around the jackets and vests inner life, providing plenty of places to keep your gear organized and your handbag less shoulder straining.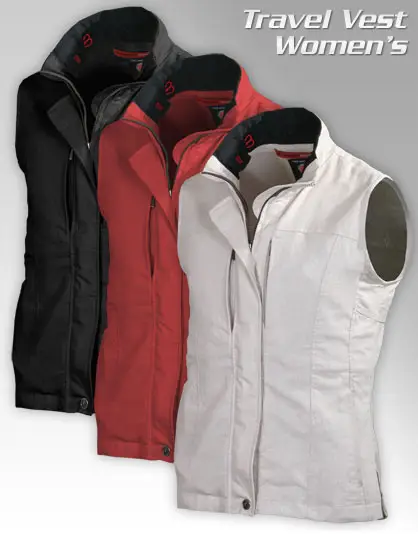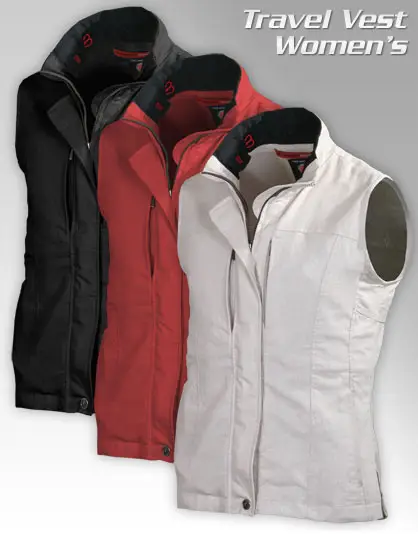 The Essential Jacket and Travel Vest, like most of ScotteVest's jackets and vests clothing is made of a lightweight and comfortable brushed cotton blend. The thin fabric allows you to control your iPod/iPhone through it. The fabric is breathable and Teflon treated to repel water and stains. Made off 65% Cotton/35% Nylon (Teflon® treated) with silky lining, this jacket and vest is machine washable.
Both models com in the colors: Black Lava, Red Rock and Desert Sand. The Essential Jacket goes for $ 120.- and the Travel Vest for $ 100.-
I do not forget the boys for which the Tactical 4.0 System is an excellent way to manage all their toys tools.
This system combines two jackets building a gear management system that keeps you covered in any kind of weather.
Both jackets, the Tactical 4.0 shell and the SeV Fleece 4.0 liner have removable sleeves and can be worn separately, as jackets or vests. The fleece can be zipped into the shell for added warmth.
A special design twist are the DualAccessâ"¢ pockets that allow to reach the contents of the pockets in the Fleece while it is zipped onto the Tactical jacket shell.
The combined system provides all together 52 pockets, compartments and the Personal Area Network that helps to channel the wires for headphones through the garments.
You can buy both Jackets separately but it saves you $ 30.- if you order them together for $ 300.- and you are fit for any weather that may come along this winter season.
ScotteVest has a large selection of Gear Management Clothing, too large to show here. If you are interested to see more, hop over to their store.
ScotteVest clothing is not strictly Wearable Electronics but they are a clever alternative to wear your electronic devices.