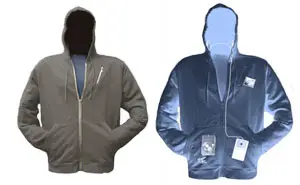 CES (Consumer Electronic Show), the currently running MUST BE THERE event of the year for the technologists and techno community might not be a place you would expect to see a clothing company.
Likewise, having the name of one of the greatest in Technology, Apple co-founder Steve Wozniak sitting on the board of a clothing company might also not be something one would associate with.
But both happens right now. And the clothing company that combines both and on top of it get coverage on our blog
is ScotteVest, the company that created the by now legendary range of Technology Enabled clothing.
ScotteVest's founder Scott Jordan is presenting his line of clothing during the CES in Las Vegas. And as unique as ScotteVest products are as unique is the way Scott Jordan is presenting his clothing line by taking a more mobile, more personal approach at the CES trade show, meeting with members of the media while researching emerging devices and technologies to incorporate into future SeV products.
Anyone interested to talk about technology enabled clothing can schedule an interview with Scott directly at [email protected] or call 208-720-6085.
Although ScotteVest clothing does not have electrical active or electronic connection integrated, it does use SCOTTEVEST's patented Technology Enabled Clothing-TEC which has become synonymous with functional fashion that discreetly incorporates electronic devices and personal effects into clothing.
The company's patented Personal Area Network (PAN) allows users to wear all the indispensable, personal multimedia tools without any visible and interfering wires, connecting devices through a hidden conduit system.
Additionally, the TEC system offers other unique features, such as magnetic closures and a multitude of ergonomic pockets designed to hold electronic devices from iPods to laptops as well as the daily necessities such as wallets and keys.
People like journalists and bloggers who do need a lot of those little helpers on the body while walking the show floor will appreciate ScotteVest's jackets. Our tip is to check out the Ultimate Hoodie pictured above might me the right gear for the CES coverage.
For a price of just $ 70.- it provides cable management and 11 pockets to store all your essentials and keep your hands free and your bag less crowded.